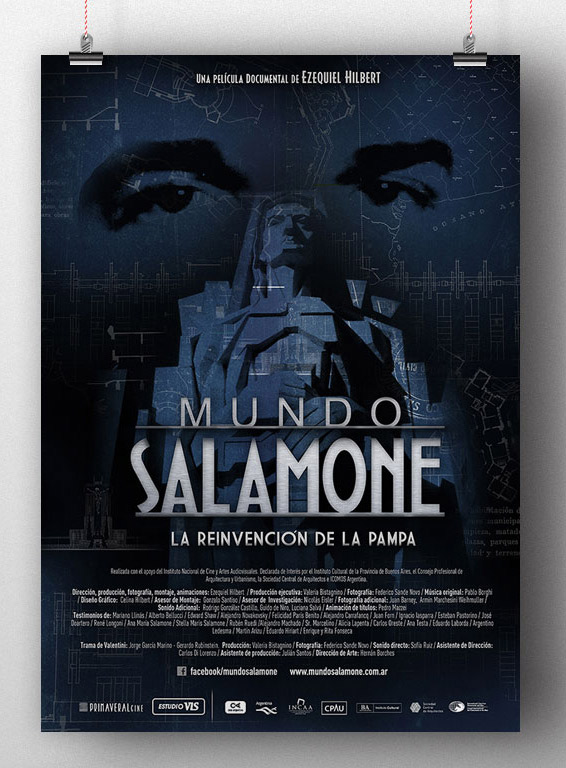 Año: 2014 
Director: Ezequiel Hilbert 
Categoría: Largometraje 
Género: Documental 
País: Argentina
Reparto: 
Sinopsis: Este documental revela la historia de Francisco Salamone, autor de más de 70 obras arquitectónicas (cementerios, municipalidades y mataderos) realizadas entre 1936 y 1940. Olvidado y despreciado por más de 50 años este film retrata la gesta del mito salamónico a través de sus redescubridores. 
Mundo Salamone 
La reinvención de la pampa, es el segundo documental de Ezequiel Hilbert. Se trata de un film inquieto que investiga la historia de uno de los tantos personajes enigmáticos de nuestro país que han sido arrojados por el tiempo al olvido.

This film unveils the enigmatic story of Francisco Salamone, an architect-ingeneer who built more than 70 astonishing buildings (mostly town halls, cemeteries and slaughterhouses) between 1936 and 1940 at the Buenos Aires province during the administration of a pro-fascist governor. Academics, artists and common people we can call "salamonics" tell us the facts and theories they could get from the silence around these enigmatic art-deco towers. The testimony of Francisco's daughters, an exquisite music and a passionate research keep us hooked to this architectural quest.
Ficha técnica: Guión y Dirección: Ezequiel Hilbert. Fotografía: Federico Sande, Ezequiel Hilbert. Montaje: Ezequiel Hilbert. Dirección de Arte: Hernan Borches. Sonido: Rodrigo González Castillo. Música: Pablo Borghi. Producción: Ezequiel Hilbert. Producción Ejecutiva: Valeria Bistagnino. Origen: Argentina. Duración: 80'. 2015.
Ficha técnica / Technical specifications:

* Título original / Title: Mundo Salamone. La reinvención de la pampa /
Mundo Salamone. The pampa reinvented
* Título internacional / International Title: Mundo Salamone
* País/es, año / Country(s), year: Argentina, 2014
* Duración / Length: 89 min
* Color — b&n – color+b&n // Color — b&w — color+b&w: Color
* Idioma / Language: Castellano
* Subtítulos / Subtitles: Inglés
* Dirección / Director: Ezequiel Hilbert
* Guión / Scriptwriter: Ezequiel Hilbert
* Fotografía / Cinematographer: Federico Sande, Ezequiel Hilbert
* Montaje / Editor: Ezequiel Hilbert

* Diseño de Arte o Producción / Art or Production Design: Hernan Borches
* Sonido / Sound: Rodrigo González Castillo
* Música / Music: Pablo Borghi
* Producción / Producer: Ezequiel Hilbert
* Producción Ejecutiva / Executive Production Valeria Bistagnino

* Intérpretes / Cast:
Juan Forn / Esteban Pastorino / Ignacio Iasparra / Alberto Bellucci / Edward Shaw / Mariano Llinas / Felicidad Paris Benito / Alejandro Novakovsky / Rene Longoni / Jorge García Marino / José Doartero / Alejandro Carrafancq / Stella Maris Salamone / Ana Maria Salamone / Alicia Lapenta.
Formatos de Proyección disponible: Digital Media HD, Blu Ray, DVD 

Datos


Idioma Original
Español
Idioma Subtítulos
Inglés
Año de Producción
2014
País de Producción
Argentina
Género
Documental
Fotografía o Imagen de la Película 
(Recomendamos resolución de 150 DPI)